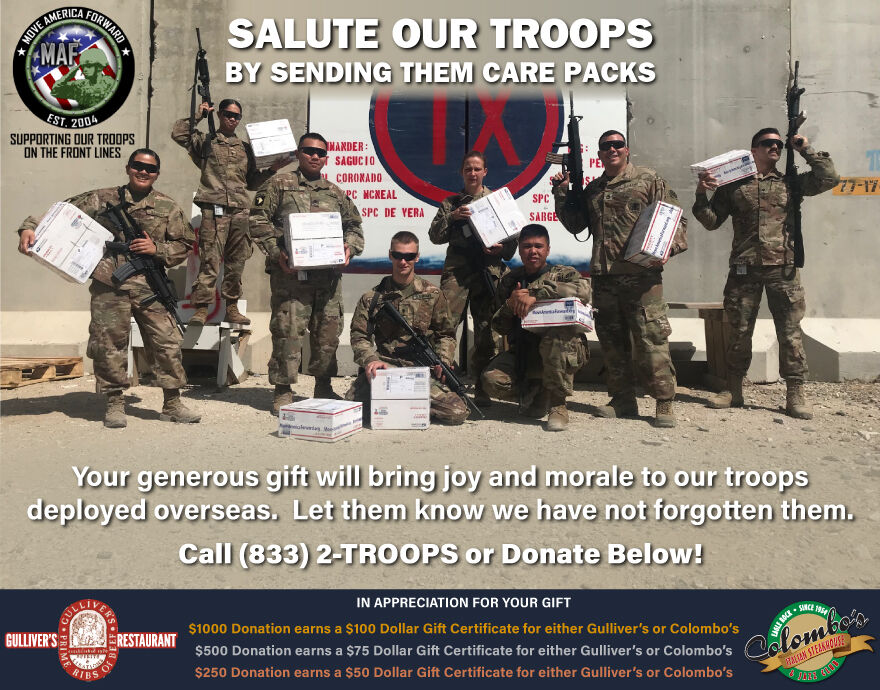 AM870 THE ANSWER INVITES YOU TO SUPPORT OUR MILITARY THIS HOLIDAY SEASON!
Call (833) 2-TROOPS or donate on-line below.
With over 300,000 US troops still deployed around the world such as Iraq, Japan, Germany, Syria, South Korea and many other locations around the world, Move America Forward sends Care Packs as a powerful reminder to all our troops serving to protect us all that they are not forgotten, and so very appreciated.

Please STAND UP FOR OUR MILITARY by sending Care Packs. Select from one of the Care Pack options listed below and help honor and remember our Service Members this Holiday Season!
Each MAF Care Package contains the items the troops request the most. Gourmet coffee, Premium beef jerky and of course Oreo Cookies!! The best way to support our troops and reach the front lines of Iraq, Asia, West Africa, etc., is to make your tax-deductible gift today and help send these much needed Care Packs to our Troops around the world.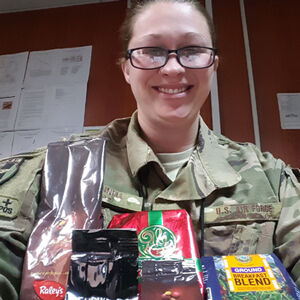 Move America Forward wants to show our American service members serving all over the globe how much we appreciate them and how they keep us free and safe - but MAF needs our help to reach as many of our Troops as possible. Move America Forward has already sent over 600 tons of Care Packages to deployed troops.
AM870 The Answer listeners have been loyal and supportive of our military, many of you have served and understand first-hand how it feels to be away from your loved ones and country for extended periods - missing holidays, special occasions and everyday activities. It just wouldn't be right to forget this new generation of brave troops following in your footsteps. The troops serving today are so critically important and their sacrifice must be remembered and honored. We know that our brave men and women are tired—many have been deployed more than 4 or 5 times. It's the toughest job in the world and very dangerous work.

While we get ready to enjoy another Holiday Season with friends and loved ones, we invite you to make a tangible act to remember our sons and daughters and brothers and sisters serving right now all over the world - and representing the United States of America as they keep us safe at home.

We are asking AM870 The Answer listeners to join with Move America Forward and STAND UP AND SUPPORT OUR MILITARY by sending care packs to our troops located around the world - THIS HOLIDAY SEASON!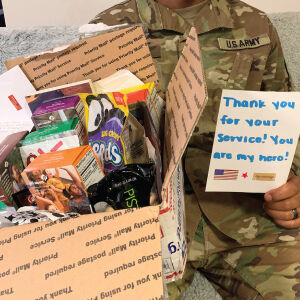 Each MAF Care Pack includes items such as: Hot Apple Cider, Shampoo & Conditioner, Deodorant, Toothpaste, Toothbrushes, Foot Cream or Powder, SPF Lip Balm, SPF Sunscreen, Bug Repellent, Military Issue Boot Socks, Magazines and Books, Casino Style Playing Cards, Phone Cards, Instant Lunches, Batteries, Laundry Detergent, Military Crisis Line/Military OneSource Resource Information, Care Packages Request Form, Handwritten Thank You Messages from School Children and other Supporters, Seasonal Items for Current Holiday, K-9 Care Packages also include eye-protecting "Doggles" & extra strong Kong Brand dog toys.
In addition, each MAF Care Package contains a personal note from you, one that our troops will carry around until they return home, we often hear how it was your words that gave them the strength to get through each day. It means everything to our troops to know their hard work and sacrifice is not forgotten. Long after all the items are used and treats eaten, your message will be what they read over and over again. Each box is individually addressed to a Marine, Airmen, Sailor or Soldier.

We always hear how our troops are returning home but we never hear about those still serving right now. Often many of our troops receive no mail, no support, and no communication of any kind from back home. Our mission is to make sure that no one is left behind, send your support to one of our nation's heroes with a Care Package.