3:00 - 6:00 PM on Wednesday, June 1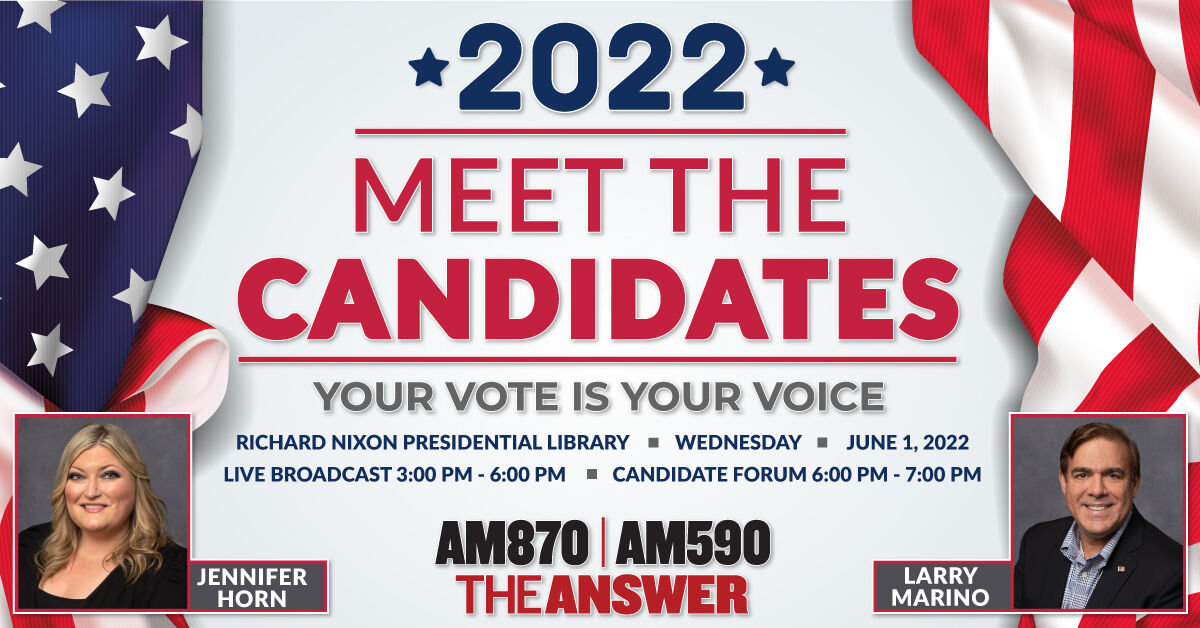 DOORS OPEN AT 2:30 PM
The California Primary is quickly approaching…it's Tuesday June 7, 2022!
The California Primary is the all-important opening act for the Midterm elections in November. Make sure you are registered to vote and then make sure you are informed and familiar with the candidates and issues that will be on the ballot.
CLICK HERE to Register to Vote. And to help you understand the issues and become familiar with the candidates asking for your vote, AM870 The Answer is presenting MEET THE CANDIDATES - a Special LIVE Radio Broadcast and FREE In-Person Candidate Forum on Wednesday, June 1, 2022 from the legendary Richard Nixon Presidential Library and Museum in Yorba Linda.
REGISTRATION FOR THE LIVE IN-PERSON EVENT IS NOW CLOSED. Join us LIVE on AM870 The Answer for the Special Radio Broadcast from 3:00 pm to 6:00 pm. Doors Open at 2:30 pm. If you registered to join us at the Richard Nixon Presidential Library and Museum, we look forward to seeing you in attendance and interacting with the various political candidates, including the Candidate Forum starting at 6:00 pm.
MEET THE CANDIDATES is your chance to be face to face with many of the top Candidates and Organizations involved with California Primary and ultimately in the midterm elections.
The Morning Answer's Jennifer Horn and News and Information Director Larry Marino will host this special event, interviewing candidates, discussing the pros and cons of various initiatives on the ballot and so much more!
Be the smartest voter in the room….get informed and equipped ….at MEET THE CANDIDATES on Wednesday, June 1, 2022 from the Richard Nixon Presidential Library and Museum.
SPONSORED BY

Location:
Richard Nixon Presidential Library and Museum
18001 Yorba Linda Boulevard
Yorba Linda, CA 92886
Google Map