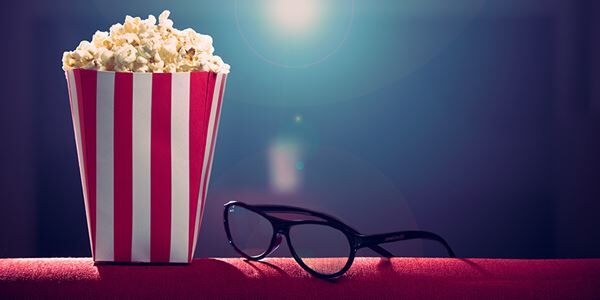 By John Hanlon
The first time I watched Licorice Pizza, I thought the film was too much. The main characters seemed to move from job to job without hesitation and bounced from one adventure to the next with little connection between each. During my second viewing (for the film's recent release on Blu-Ray and DVD), I appreciated it more — not as a traditionally linear story that moved naturally from one part to the next — but as a glimpse of youth and how messy and exhilarating life can be.
Writer/director Paul Thomas Anderson is well-known for his star-packed ensembles. Here, his two leads are performers starting out their acting careers. Singer Alana Haim (of the group Haim) and Cooper Hoffman, son of Anderson's late frequent collaborator Philip Seymour Hoffman, co-star as two youngsters whose lives become intertwined after Alana (Haim) meets Gary (Hoffman) on his high school picture day.
After the cocky teenage Gary invites Alana out to dinner, the two begin a friendship that continues through a series of misadventures. Alana is a photographer's assistant in her twenties but decides to step into teenage Gary's orbit, unsure of where it will go. Gary is a young actor, with a broad grin and dizzying charisma that brings her and others into his world.
Anderson moves these characters along on their journey, moving the plot quickly from one thing to the next. Alana goes from chaperoning Gary on a trip to New York to helping him sell waterbeds after he starts a small business. It can be dizzying to keep up with the two young people but the film's pace offers this sense of youthful vigor and energy that could remind viewers of their own adolescent journeys.
There's a sense here that the characters will win day grow up and look back at their youthful discretions and think about the crazy nights they once had. The will remember the night that Alana stepped onto a motorcycle with actor Jack Holden (Sean Penn) hoping to recreate one of his film's action sequences or they will reminisce about the time their truck ran out of gas and they had to go in reverse down the hilly streets of San Fernando Valley to avoid the raving antics of Barbara Streisand's beau Jon Peters (Bradley Cooper). In the meantime, viewers get to enjoy these adventures and how they affected the relationship of the two main characters here.
Throughout the film, Anderson's camera often moves with the characters, capturing their movements in a brilliant and illuminating way. It's as if viewers are truly on the journey with them. That works effectively both when the filmmaker attempts to capture the ebullience of Hoffman running down the streets and it also works when it shows how Peters' temper can turn him from a fast-talking goofball to an intimidating bully.
Licorice Pizza may seem off-putting especially to first-time viewers as the characters move from one thing to the next but it's worth it if viewers are willing to just take a step back from its sprawling plot and choose to just enjoy the ride.
Licorice Pizza is now available on Blu-Ray and DVD. It can be purchased by clicking here.