'Netflix vs. The World' Review: Doc chronicles Netflix's origin story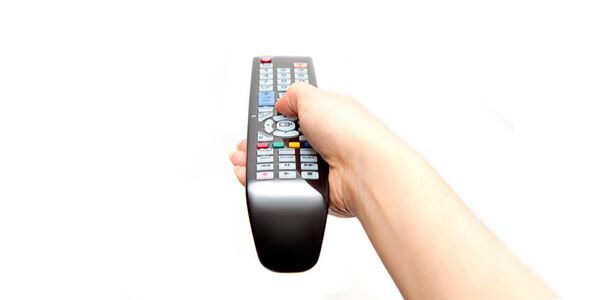 By John Hanlon
It's difficult to imagine that the world changed a mere seven years ago. When House of Cards premiered in 2013, it was the first original Netflix series. Since then, the media giant has become an undeniable powerhouse in the entertainment world, with new series and films seemingly arriving each week. It wasn't always this way though.
A few short decades ago, Netlflix was a new company struggling to survive.
In his new documentary Netflix vs. the World, directory Shawn Cauthen explores the unexpected rise of a company that once based its offices in a Best Western conference room.
With a title like Netflix vs. The World, one might think that the film would focus on the streaming giant's contemporary dominance over many of its competitors. In actuality, the movie presents Netflix's origin story, showing how Netflix had to overcome countless obstacles that the world had in store — from server malfunctions to mailing machines to the overwhelming odds against it — to truly succeed.
Based on the book Netflixxed: The Epic Battle for America's Eyeballs by Gina Keating, the contours of Cauthen's film might be familiar to some but the presentation of Netflix's history offers some great insight into the unbelievable true story. Relying on firsthand interviews with some of the early backers and supporters of Netflix, the feature lets these pioneers tell the story from their own perspectives.
Many viewers likely know that Netflix started as a DVD rental service but the interviews here provide great details about what launching such a service meant in actuality.
One of the main storytellers here is Marc Randolph, one of the co-founders of Netflix. He openly talks about the early struggles of the company and how a long commute to a previous job led to conversations about launching the start-up. Randolph and others offer great anecdotes about the seemingly insurmountable odds they faced. They also reveal some of the biggest mistakes that were made along the way. One memorable one involves Netflix renting out DVDs of President Bill Clinton's grand jury testimony. Because the Netflix team wanted the products produced quickly though, the DVDs weren't labelled and adult films were accidentally sent out to customers instead.
Such anecdotes keep this documentary from becoming a dry recitation of facts and figures. Cauthen includes some statistics here but his job here is as a storyteller and he keeps the story moving forward at a brisk pace. Because of that, there are some parts of the story that proceed a little bit too quickly. Because Cauthen wants to cover so much material (the life of Netflix over two decades, in fact), some of the elements feel a little bit rushed at times like the launch of the Netlix streaming services and the split between the DVD rentals and those streaming services.
There is a lot of data in the film but Cauthen manages to present it in an interesting and intriguing way. Cauthen's reliance on personal stories and fascinating anecdotes gives the audience a grander perspective on how Netflix managed to survive and ultimately thrive in a competitive market. Through interviews with former Blockbuster executives and even a Blockbuster franchisee, the documentary even shows how Netflix overpowered its once-powerful competitors.
Today, it's easy to take Netflix's success for granted and forget where it came from and how it succeeded. If anything, Cauthen's compelling film should remind viewers of Netflix's early history and how success doesn't come easily for anyone.
Netflix vs. The World is now available on Amazon Prime.