"The Gentlemen" Blu-Ray Review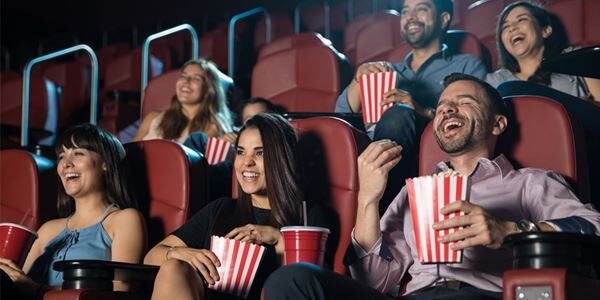 Guy Ritchie's drama The Gentlemen won't be for everyone. The overstuffed plot doesn't unfold in a traditional way and the narrative devices take some getting used to. However, the film eventually rewards patient viewers with a solid story, strong characters and a few great twists.
Much of the story is told by Fletcher (Hugh Grant), a seemingly untrustworthy narrator who recounts his tale to Ray (Charlie Hunnam), an impatient listener who knows Fletcher's reputation well. Ray knows that Fletcher is dishonest and sometimes even stops Fletcher from exaggerating the story.
In his recounting of the story, Fletch introduces Michael Pearson (Matthew McConaughey), Ray's boss, as the protagonist. Pearson runs a huge marijuana-growing enterprise in the United Kingdom and recently decided to leave the business. He's thinking about selling it to a wealthy aristocrat named Matthew (Jeremy Strong) but a power-hungry youngster named Dry Eye (Henry Golding) wants to purchase it instead.
This story unfolds through an array of flashbacks — some of which are corrected by Ray's own account of the events — as Fletcher guides the viewer through the story.
The script itself, which was also written by Ritchie (and came from a story from Ritchie, Ivan Atkinson and Marn Davies), is undeniably sharp. There's a wit and a shape to the dialogue that makes so many of these characters stand out. The dialogue moves the story forward at a quick pace as this ensemble of criminals and eccentrics manipulate and betray one another.
However, not all of the scenes seem to work together as smoothly as they should. A sub-plot about an effort to rescue a drug-addicted youngster doesn't really fit in with the story around it. There are parts of that scene that stand out — a balcony "accident" and a chase sequence showing the efforts to produce photographic evidence — as strong moments in the feature. However, that scene never seemingly fits in with the story around it.
The film more than makes up for extraneous subplots though with a great sense of style and sensational casting. As Matthew states early on, "For every look, there is a season and for every season, a strategy." Each of these characters have their unique looks and their own plans for staying ahead of the game and the feature succeeds when it shows these characters facing off against their opponents.
It helps that the ensemble cast is composed of great actors bringing their unique characters to life. From Michelle Dockery who steals scenes as Michael's resourceful wife to Grant who seems to delight in his character's shrewd persona, the film's cast is uniformly great.
At times, The Gentlemen does feel a little overwhelming with its some of its subplots taking up more time than necessary. Not everything comes together truly in the end and there are some elements here that don't work as well as they should.
At its core though, the Ritchie's latest offers a stylish and entertaining tale with a few great performances (including McConaughey, who easily glides into his character's impeccable wardrobe) and a few nice twists along the way.