Trump's televised speech inspires confidence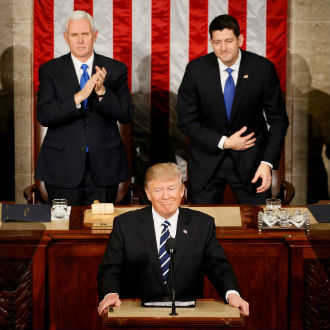 Even CNN viewers approve.
After 40 days as President, Donald Trump gave his first address to Congress last night. The speech, which was televised on the major networks, is not considered a State of the Union address but it's considered a key point in any new president's tenure.
During the speech, Trump laid out his ambitious agenda for this year-- an agenda that includes a healthcare overhaul and immigration reform.
While many members of Congress criticized the speech, the public's reaction seemed much more positive. According to CNN.com, "President Donald Trump's first address to Congress received largely positive reviews from viewers, with 57% who tuned in saying they had a very positive reaction to the speech, according to a new CNN/ORC poll of speech-watchers." The article went on to note that "about 7-in-10 said the speech made them feel more optimistic about the direction of the country."
In addition to Trump's more positive tone during the speech, it will likely be remembered for President Trump's focus on the widow of a Navy SEAL, who died during a recent raid in Yemen. The moment was a tremendously emotional one as the president kept the focus on Senior Chief William "Ryan" Owens and the Congress gave the late veteran a standing ovation.
Not everyone was a fan of the speech though with some celebrities tweeting out their disapproval of it and Rosie O' Donnell leading a protest right before the speech protesting some of the president's policies.
John Hanlon is our film and television critic. He can be followed on Twitter @johnhanlon and on Facebook here.