6:00 - 9:00 PM on Tuesday, September 29
6:00 - 9:00 PM on Wednesday, October 7
6:00 - 9:00 PM on Thursday, October 15
6:00 - 9:00 PM on Thursday, October 22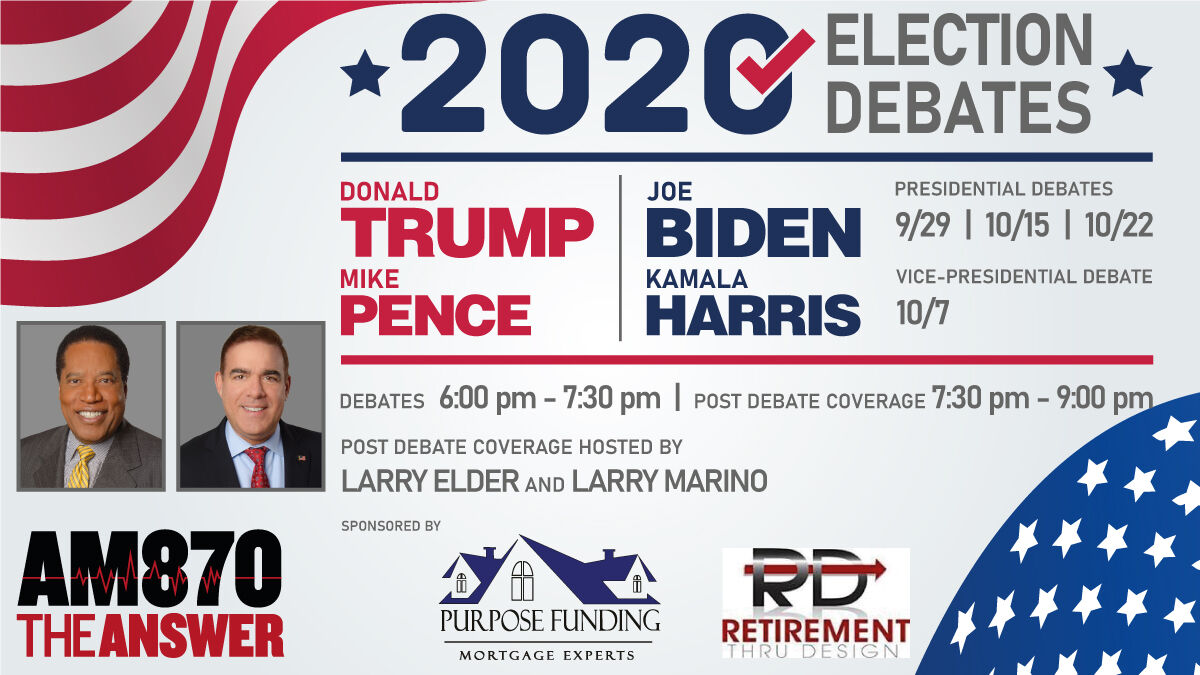 CLICK HERE FOR
AM870 The Answer presents the 2020 Presidential and Vice-Presidential Debates, sponsored by Purpose Funding and Retirement Thru Design.
Join AM870 The Answer's Larry Elder, host of The Larry Elder Show, weekdays from 6 pm to 9 pm and Larry Marino, Director of News and Information for special Post Debate Coverage, featuring commentary, observations and scorecards on who won and who lost.
President Donald Trump takes on Democratic Challenger and former Vice-President Joe Biden in Presidential Debates on Tuesday, September 29, Thursday, October 15 and Thursday, October 22.
Vice-President Mike Pence will debate Democratic Vice-President nominee, Senator Kamala Harris on Wednesday, October 7.
The debates are scheduled from 6:00 pm to 7:30 pm with Post Debate Coverage with Larry Elder and Larry Marino from 7:30 pm to 9:00 pm.
AM870 Talk Hosts will be adding their observations and comments during the debate. Follow along on our AM870 Twitter Debate Page.
Sponsored by: