Free Health Fair Saturday
9:00 AM - 1:00 PM on Saturday, January 29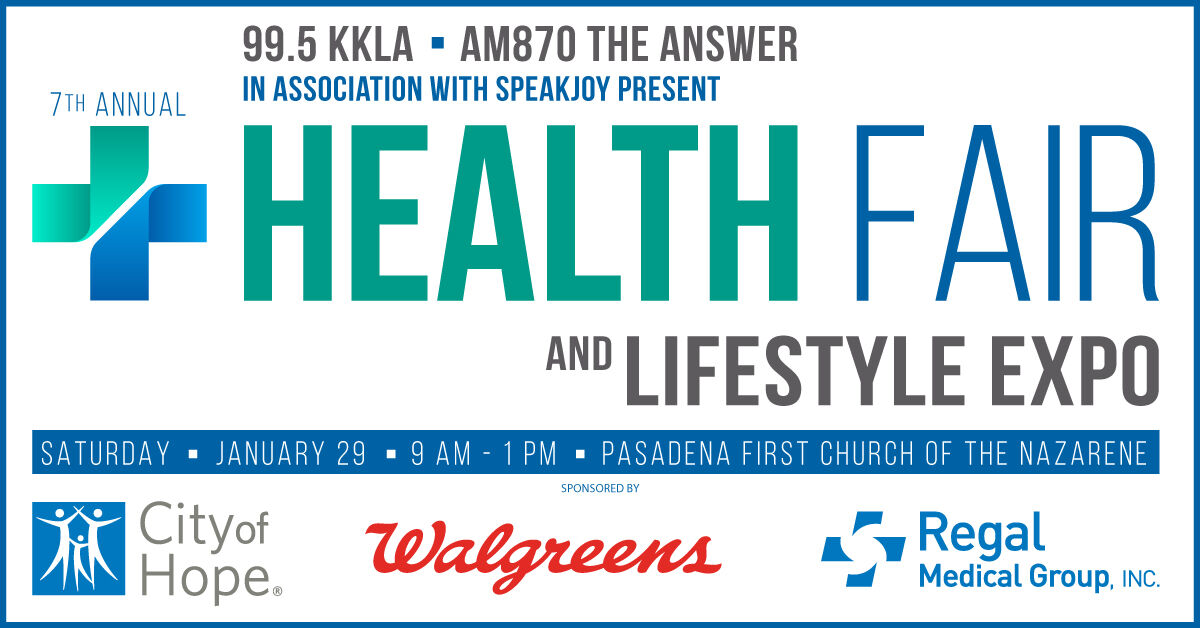 AM870 The Answer and 99.5 KKLA in Association with SpeakJoy invite you and your family to our 7th Annual FREE Family Health Fair and Lifestyle Expo at the First Church of the Nazarene in Pasadena, on Saturday, January 29, 2022 from 9 am to 1 pm.
You do not want to miss this Special Health Fair and Lifestyle Expo featuring no cost health screenings, informative workshops and seminars, dozens of medical and dental, beauty, fitness, healthy lifestyle and well-being vendors and exhibitors and a free complimentary continental breakfast courtesy of Hope Cafe and Catering!
This special Health Fair event is FREE for the Whole Family!
We look forward to seeing you at our 7th Annual Health Fair and Lifestyle Expo in Pasadena, sponsored by Hope Cafe and Catering, Regal Medical Group, City of Hope and Walgreens.
Also sponsored by Arcadia Family Wellness Center, HIFU/Dr. Richard David M.D., Simple Turn, SoCal Reverse Mortgage, Rose Hills Memorial Park & Mortuary, Home Instead, Valley Clinical Trials, Hill Medical Corporation, ERA Life Care, Cancer Support Community Wellcare, Gentle Transitions, Alignment Health Plan, Risher Mortuary & Cremation Service, Farm Fresh to You, Parsa T. Zadeh, DDS, Grossman Burn Foundation, The Gold Financial Group, The Smile Agency, MorningStar Senior Living, Humana, Dr. Richard Krejcir - The Financial Doctor, Move Better Physical Therapy, HearingLife, Somnvie, New Day Rehab Center, Microlight Corporation of America, Bristol Hospice and America's Christian Credit Union.

THE CHURCH OF THE NAZARENE, WHILE PROVIDING THE FACILITY WITH REIMBURSEMENT, IN NO WAY SUPPORTS OR ENDORSES THIS ACTIVITY.
Location:
Pasadena First Church of the Nazarene
3700 E Sierra Madre Blvd
Pasadena, CA 91107
Google Map