5:00 - 9:00 PM on Monday, February 20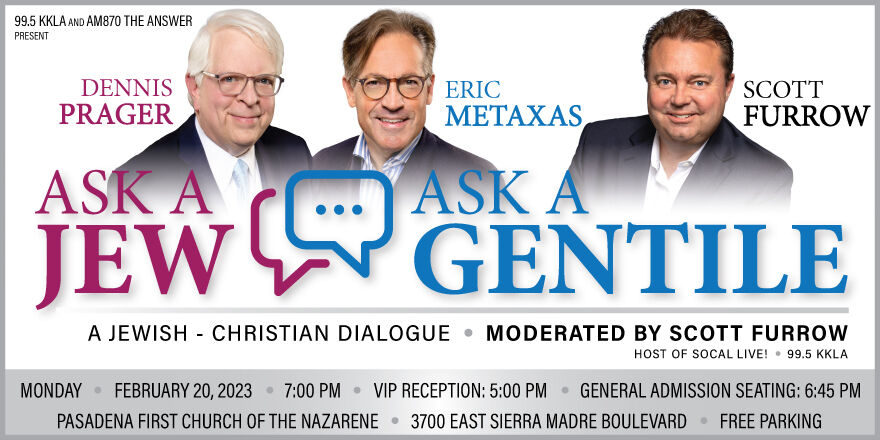 AM870 The Answer and 99.5 KKLA Present: Ask a Jew, Ask a Gentile with Dennis Prager and Eric Metaxas. This Special Jewish - Christian Dialogue will be moderated by KKLA's Scott Furrow at Pasadena First Church of the Nazarene, (PazNaz), on Monday, February 20, 2023. Sponsored by Mitch Clemmons Plumbing.

A Special VIP Reception begins at 5:00 pm and Doors Open for General Admission Seating at 6:45 pm. The Program begins at 7:00 pm. Tickets are On Sale Now!
Dennis Prager and Eric Metaxas will be having a unique Jewish and Christian Dialogue that is sure to be entertaining and enlightening as they tackle a variety of topics and subjects including:
What do Jews believe about the Messiah?
Do we earn our way to heaven or it is by faith alone?
And How do the Jewish and Christian faiths view life after death?
KKLA's Scott Furrow will be setting the tone and serving as host and moderator for this unique inter-faith event.
It all takes place on Monday, February 20, 2023 at PazNaz - Pasadena First Church of the Nazarene, 3700 East Sierra Madre Boulevard, just north of the 210 Foothill Freeway in Pasadena. There will be a Special Pre-Event VIP Meet & Greet Reception with Dennis, Eric and Scott, featuring light Hors D'oeuvres, beverage (non-alcoholic) and early access to seating. Parking is Free. The VIP Reception starts at 5:00 pm and doors open for General Admission seating at 6:45 pm. CLICK HERE FOR TICKETS!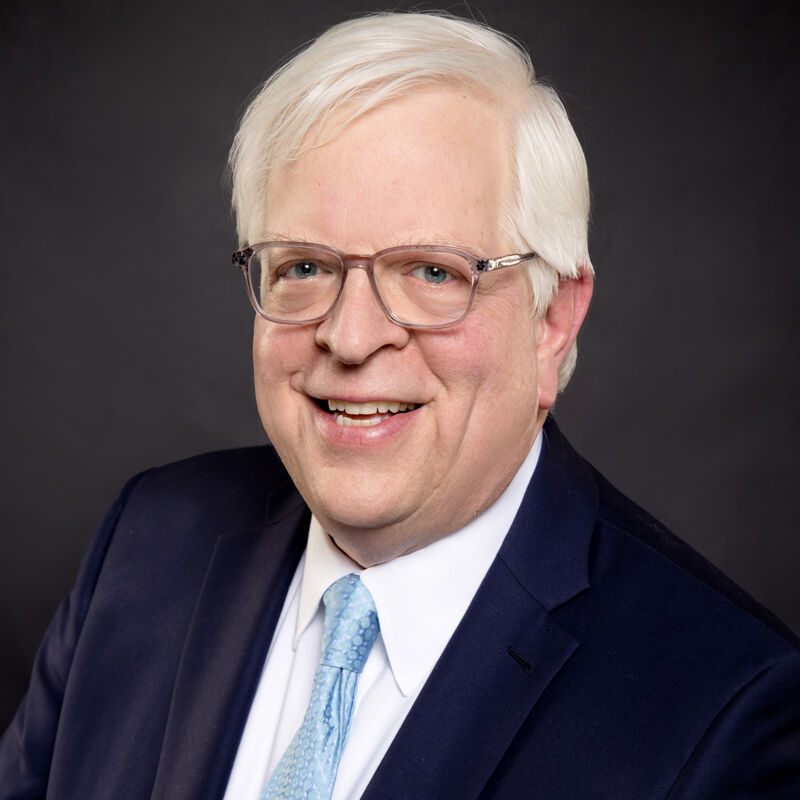 Dennis Prager is a nationally syndicated talk show host – heard across the country on nearly 400 radio affiliates, including his home station of AM870 The Answer where you can hear Dennis weekdays from 9:00 am to Noon. His show is also live streamed on the AM870 Mobile App, at AM870TheAnswer.Com and Audicy.com and iHeartRadio.com. The Dennis Prager Show can also be seen LIVE and on-demand on the Salem News Channel.
Dennis is the founder of Prager University (PragerU) – the most viewed conservative video site in the world, with one billion views a year, more than half by people under the age of 35.
He is a New York Times bestselling author of nine books on subjects as varied as religion, happiness, morality, the left, Islamism, and America. He is a life-long theologian. His book, The Rational Bible, is the first volume of his five-volume commentary on the first five books of the Bible – rooted in his extensive knowledge of biblical Hebrew. It is currently the bestselling Bible commentary in America, and at publication was the #1 bestselling non-fiction book in the United States.
He is deeply passionate about preserving America, the West, and the Judeo-Christian value system – yet he may well be the calmest voice in radio.
Listen to The Dennis Prager Show - weekdays from 9:00 am to Noon on AM870 The Answer.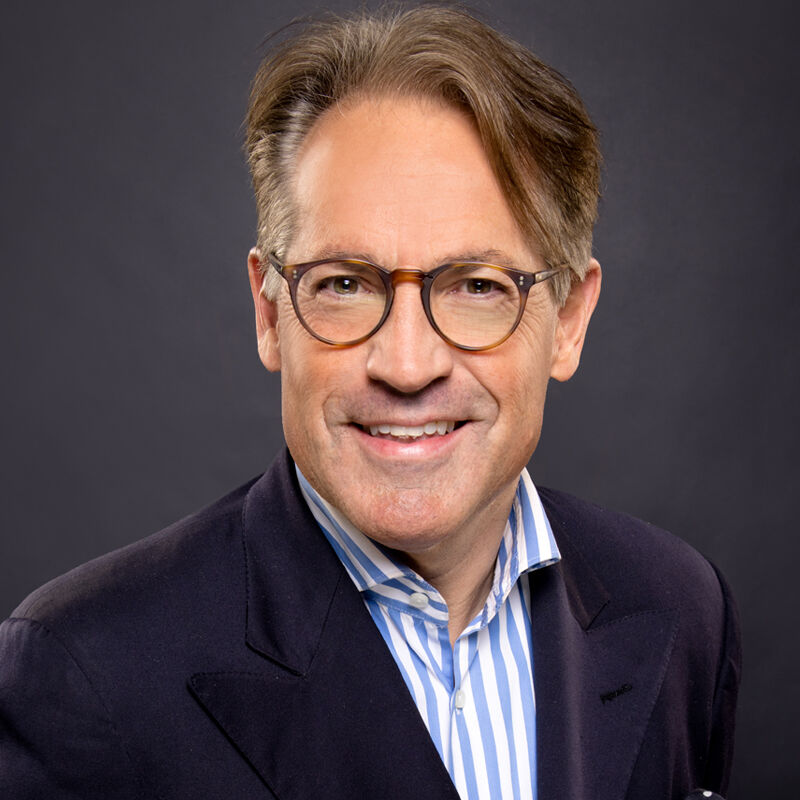 Eric Metaxas is the #1 New York Times Bestselling author of Bonhoeffer, and many other books, including Is Atheism Dead?, Martin Luther, Amazing Grace, and Letter to the American Church. He has written more than thirty children's books, including the bestsellers Squanto and the Miracle of Thanksgiving and It's Time to Sleep, My Love, illustrated by Nancy Tillman.

He is the host of Socrates in the City, and the nationally syndicated Eric Metaxas Radio Show — heard weekdays in more than 120 cities around the U.S. and airing weekly as a TV show on TBN, and features in-depth interviews with a wide variety of guests such as Dick Cavett, David Brooks, Kirsten Powers, Kathie Lee Gifford, N. T. Wright, Peter Hitchens (brother of Christopher Hitchens), Jimmie "J.J." Walker, Andrew Garfield, Maria Butina, Ross Douthat, Tony Shalhoub, Morgan Freeman, Jeff Allen, Senator Rand Paul, Joseph Fiennes, Darryl Strawberry, and Suzy Welch. Metaxas speaks to thousands around the U.S. and internationally each year.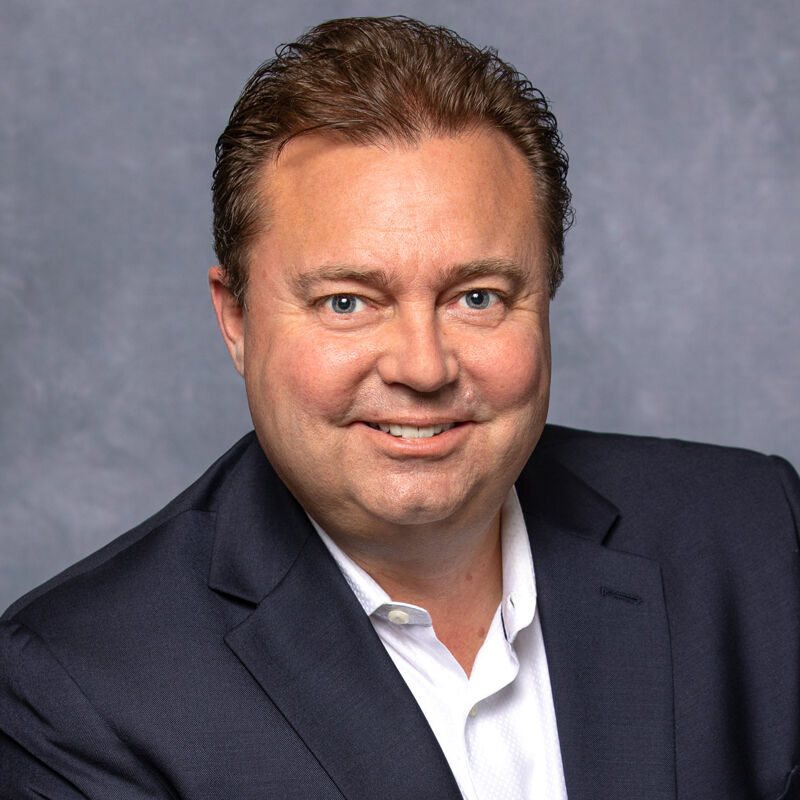 Scott Furrow was born and raised in Southern California. He graduated from UC Riverside, earning a bachelor's degree in history/law and society. Scott's career has included roles in politics, government, media relations as well as the corporate marketplace.

He received his Master of Divinity degree from Bethel Theological Seminary in San Diego. A pastor for 25 years, Scott served as Senior Pastor of the First Baptist Church of San Diego for the past 18 years. For two hours each weekday, Scott will bring hope and encourage KKLA listeners to be salt and light in today's rapidly changing culture.

Scott combines a quick wit, theological knowledge and wisdom, a strong grasp of the news, and empathy for issues facing our listeners. As a pastor, Scott's passion and calling has been encouraging people to grow in their faith and to be more Kingdom-minded in everyday life.
Listen to SoCal LIVE! with Scott Furrow, weekdays from 3:00 pm to 5:00 pm on 99.5 FM KKLA.

General Admission Seating..........$25.00
VIP Reception & Seating ..............$99.00
Sponsored by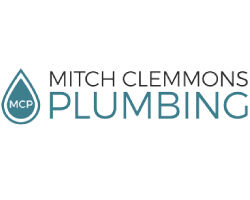 Don't miss this incredible one night only Special Event featuring Dennis Prager and Eric Metaxas, moderated by Scott Furrow on Monday, February 20, 2023 at Pasadena First Church of the Nazarene.

The Church of the Nazarene, while providing the facility with reimbursement, in no way supports or endorses this activity.


Location:
Pasadena First Church of the Nazarene
3700 E Sierra Madre Blvd
Pasadena, CA 91107
Google Map