Call the show at (626) 914-7010
WATCH THE GUNSLINGER HOUR "LIVE" ON FACEBOOK. CLICK HERE.
Open since June 1st, 1998, Gunslingers Gun Shop and Auctions is a family-owned business, run by owner-operator Jeff Taverner. Gunslingers offers expert advice in firearms along with comprehensive services in Firearms Auctions, Consignment, Sales, and Appraisals, and more! Learn more at gunslingerauctions.com or call (626) 914-7010, and you can email them at [email protected].
Show Links:
Sponsored By:
---
---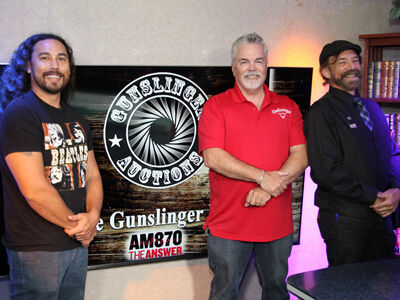 Join host Jeff Taverner with friends Mark the Professor and Jimi the Gent on the hit radio show The Gunslinger Hour.
Jeff Taverner, owner-operator of Gunslingers Gun Shops, is a musician, business owner and competitive shooter for over 25 years.
Mark Romano is a college professor and competitive shooter for more than 20 years.

Jimi Murtagh has been working gun sales and auctions for a number of years. He's also a gun owner who is dedicated to teaching his family and community about the fun and safety of guns.

Open since June 1st, 1998, Gunslingers Gun Shop and Auctions is a family-owned business, run by owner-operator Jeff Taverner. Gunslingers offers expert advice in firearms along with comprehensive services in Firearms Auctions, Consignment, Sales, Appraisals, and more! Learn more at gunslingerauctions.com or call (626) 914-7010, and you can email them at [email protected]